Smoke Detectors
Fire Prevention | Fire Extinguishers | Fire Prevention Week | Carbon Monoxide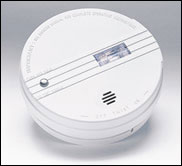 When fire breaks out, the smoke alarm, functioning as an early warning system, reduces the risk of dying by nearly 50 percent. Alarms are most people's first line of defense against fire.
In the event of a fire, a smoke alarm can save your life and those of your loved ones. They are the single most important means of preventing house and apartment fire fatalities by providing an early warning signal -- so you and your family can escape. Smoke alarms are one of the best safety features you can buy and install to protect yourself, your family and your home.
Where to install Smoke Detectors
Install smoke alarms on every level of your home, including the basement. Many fatal fires begin late at night or in the early morning. For extra safety, install smoke alarms both inside and outside the sleeping area. For added safety, install smoke alarms in every room where people sleep. Choose a smoke alarm that bears the label of a recognized testing laboratory.
Smoke alarms should be installed on the ceiling or 6 to 8 inches below the ceiling on side walls. Since smoke and many deadly gases rise, installing your smoke alarms at the proper level will provide you with the earliest warning possible. Always follow the manufacturer's installation instructions.
Maintaining your Smoke Detectors
Install a new battery in all smoke alarms at least once a year. Install a new battery immediately if an alarm "chirps" to indicate a low battery.

Replace smoke alarms that use extended-life, lithium batteries when the alarm "chirps" or fails to respond to periodic testing. The batteries in these units cannot be replaced.

Replace all smoke alarms when they are 10 years old.

Test smoke alarms every month. Use the test button, or an approved smoke substitute, and clean the units, according to manufacturer's instructions. Do not use an open-flame device to test the alarm.

Special smoke alarms are made for people who are deaf or hard of hearing. These alarms use strobe lights. Vibrating devices may also help in some cases
.
fire prevention week

Fire Prevention Week was established to commemorate the Great Chicago Fire, the tragic 1871 conflagration that killed more than 250 people, left 100,000 homeless, destroyed more than 17,400 structures and burned more than 2,000 acres. The fire began on October 8, but continued into and did most of its damage on October 9, 1871.
 On the 40th anniversary of the Great Chicago Fire, the Fire Marshals Association of North America (today known as the International Fire Marshals Association), decided that the anniversary of the Great Chicago Fire should henceforth be observed not with festivities, but in a way that would keep the public informed about the importance of fire prevention. The commemoration grew incrementally official over the years.
In 1920, President Woodrow Wilson issued the first National Fire Prevention Day proclamation, and since 1922, Fire Prevention Week has been observed on the Sunday through Saturday period in which October 9 falls. According to the National Archives and Records Administration's Library Information Center, Fire Prevention Week is the longest running public health and safety observance on record. The President of the United States has signed a proclamation proclaiming a national observance during that week every year since 1925.
Fire Prevention Week in Nassau Bay
The Nassau Bay Volunteer Fire Department participates in the annual fire prevention week activities by educating children on school visits, hosting fire prevention classes for groups and organizations and on the Friday night of Fire Prevention Week hosts it's annual Open House.
The Mayor of Nassau Bay signs a proclamation proclaiming a city wide observance of Fire Prevention Week every October to coincide with the national observation. This proclamation is made during a City of Nassau Bay Council Meeting. Members of the NBVFD attend this meeting and give the City Council a schedule of events planned for the week.
If you or your group are interested in scheduling a vist to the fire station, or scheduling a fire prevention class please contact the NBVFD
If you would like more information about Fire Prevention Week, visit the National Fire Prevention Association's website by clicking here.